Courtney and Jack were married here at Lapstone Barn in mid-September and we've chatted to Courtney about every element of her perfect wedding day…
Why was Lapstone Barn the perfect wedding venue for you?  We knew we wanted to get married in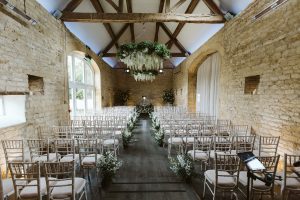 a barn in the Cotswolds, so that was the first box ticked! One of the (many) things we loved about the venue was that everything was in one place, with separate rooms for the ceremony and wedding breakfast. This meant we didn't have any time wasted with a room being turned around for different stages of the day. Also the venue is absolutely stunning in itself which means that it doesn't need a lot of decorations as it is so classically beautiful. We loved the traditional feel of the Cotswold stone barn contrasting with the slightly more modern industrial and contemporary style of the adjoining barn where we had our wedding breakfast. ​
​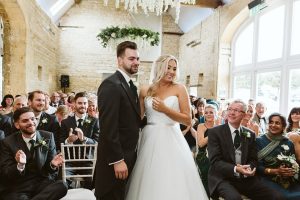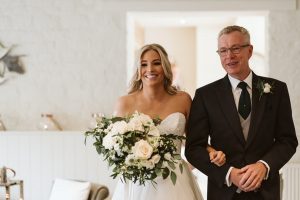 How did you choose your dress? I wanted everything about my wedding to be classically elegant and did this through simplicity and not trying to add in too many colours, and my dress was a key part of this look. I chose a Suzanne Neville dress as I love her style; very simple and elegant with beautiful detail that is fairly understated. I felt a million dollars in it all day – I wish it was something I could wear again and again!
For my bridesmaid's I chose forest green bridesmaid dresses. They all had very different skin tones and haircolour, so it was a very flattering colour for all of them. As Lapstone Barn is such a rural, country venue, the colour seemed to suit the style of the venue too.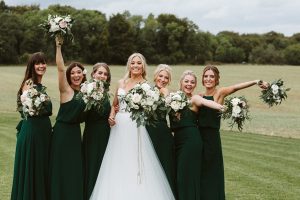 Jack, his best man, and ushers were all wearing dark grey morning suits with forest green ties and handkerchiefs to coordinate with the bridesmaids dresses. Again, this was a traditional and classic look – but they were still looking cool!
​

What style of décor did you go for? Like with my dress, I wanted elegance and simplicity. As the venue is so beautiful in its own right, I only spent money on decorating with flowers and had different shades and textures of greens and whites. The aisle in the stone barn was lined with meadow style arrangements and we had two huge stunning flower chandeliers suspended from the rafters of the barn, which had the true wow factor for the ceremony and in to the evening when this space became the dancefloor. In mine and the bridesmaid's bouquets, I added a splash of colour with blush coloured roses, which looked so beautiful against the green dresses. On the dining tables I went for tall glass vases, so everyone could easily see everyone across the tables, but wanted to add height to fill the space in the barn. We also had floating candles in tall glass vases as they gave a very romantic feel. ​
 ​What did you have to eat? The food was AMAZING!! We had Crab, Smoked Salmon & Guacamole Gateau to start, followed by Roast Fillet of Beef with Caramelised Celeriac & Grain Mustard Jus. The beef was so tender you could cut it with a spoon and so many people commented on how delicious the food was.
​What did you enjoy most about your wedding day? The best part of the day was probably during our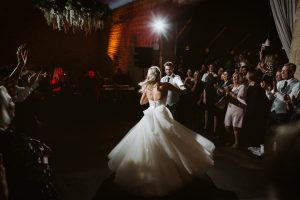 first dance! We had a fast paced first dance (You make my dreams come true, by Hall & Oates) and when we called everyone onto the dance floor half way through the track, the room was filled with everyone laughing, dancing and having the best time. I've never seen such a busy dance floor and the pictures David caught of those moments are just amazing and beautiful. ​Absolute highlights of our day that will stay with me forever.
​
Words of wisdom – Take time throughout the day to sit back and just watch everyone and take it in. I was so glad I did this and it's so amazing to see all the most important people in your lives having the best time together, laughing, dancing, talking. You spend so long planning your wedding day so you need to see how much everyone is enjoying it!