Our Wedding Venue
Sean and I decided early on that we wanted to get married at St Catharine's in Chipping Campden – a lovely little church and the one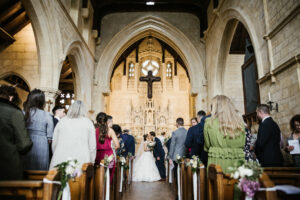 nearest to my parents' house. So we knew we needed a reception venue nearby. After traipsing round a few other options, as soon as we walked in to Lapstone Barn we knew it was the one. We wanted something that felt classically Cotswolds, but not too twee – Sean and I are city dwellers after all. The long sweeping drive through the Cotswold countryside, the exposed steel inside and the great selection of drinks on the bar sealed the deal! The team were so warm and generous when showing us around, we booked it on the spot.
From there things only got better when we had our food tasting. Sean and I are big foodies, and we knew we wanted a French menu on the day as a nod to family holidays in Provence. Lapstone did not disappoint! We started with a Cheese Souffle, followed by Tarragon Chicken, Dauphinois Potatoes & Greens, and Tarte au Citron to finish. I know we're biased, but it was the best wedding breakfast we've ever had…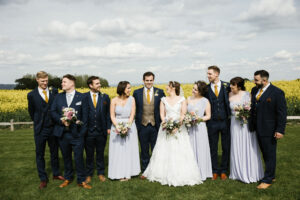 For any Spring brides out there, you're in luck. On our wedding day, the fields were a blaze of yellow rapeseed (it might not be the same every year though!), and the cherry blossom at the farmhouse was in full bloom. Driving down towards it was a real 'wow' moment, and the perfect backdrop for our photos. It is a truly stunning setting – and I'm so glad we picked it.
The Dress and Accessories
I found my wedding dress after much searching (and another ill fated dress purchased for wedding date one!) at Carina Baverstock Couture in Bradford on Avon. Carina sat me down, talked to me about our day and picked out a selection of dresses that she felt might fit the bill. She was mind blowingly accurate! I picked a bespoke dress by Suzanne Neville – the top of Sapphire with the skirt of Rosa. It was a bit of a punt to buy a dress that doesn't exist yet, but I knew I wanted something special, and the slightly patterned skirt of Rosa added a little bit of drama. I paired the dress with a crown and some earrings by Victoria Percival. If you can't wear a crown on your wedding day, when can you?! My shoes were the Camellia in blue by Loeffler Randall. I ended up buying these on a trip to New York with Sean. It's a special memory, me strutting around the shop in Camellias of every height and colour, making Sean pick his favourite. I think he made the right choice..!
The Bridesmates
I bought the bridesmaid's dresses early on from Ted Baker and I love them just as much now as I did then. They're the perfect shade of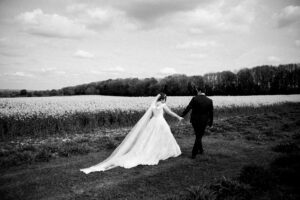 blue, and so flattering on all of the girls. My bridesman Dan (or Best Dan!) wore the same suit as the groomsmen, but with a tie and pocket square to match his fellow Bridesmates.
The Groom's Suit
We found Sean's suit in Country Master in Stow on the Wold. Jon has a great selection of suits having set up the company when he struggled to find a suit he liked for his own wedding. Sean's suit and tie is by Marc Darcy – and we even managed to find a mini version for his nephew Luca. Too cute.
Hair & Make-up
You spend so much time with your hair and make up team on the morning of your wedding ,so it's so important to find someone who matches your energy and feels part of the gang. I found that and more in the wonderful Tasha and Kerry from Margot & Lace. They were an absolute pleasure, and they made us all look and feel amazing.
The Wedding Cake
Our favourite café where we live in Bristol is called Ahh Toots. When we found out they did wedding cakes we knew we had to use them! Their cakes are beautifully decorated and use natural ingredients, always. Not to mention being absolutely delicious! We opted for three cakes and four flavours: victoria sandwich, lemon and courgette, banana and salted caramel and chocolate guiness. Not a crumb was left over!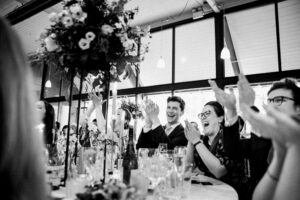 Florist
We had a last minute change to our florist but I'm so glad that we ended up working with Sarah at the Petal Emporium. Sarah is so kind, a real delight to be around and the flowers speak for themselves. When I arrived at the church and saw the flower arch it took my breath away. The fact that she was also able to bring it up to Lapstone Barn too was the cherry on the cake. She took our brief and turned it in to something bigger and better than we could have imagined. A gorgeous palette of country blooms that smelled as good as they looked.
Styling
Lapstone Barn is such a beautiful venue, and we wanted to rent a few items to really make the space sing. We found Styletopia on
Instagram and as soon as we saw the disco ball chandelier, we had to have it! Ruth and Kim dressed the venue on the day, and set out the charger plates, photographs, candles and other bits and pieces that really brought our vision to life. Using them also removes the stress of doing the set up yourself – that's worth every penny to me!
The Music
Music is really important to us. We both love going to gigs and I sing in a choir, so we knew that music would be a huge part of our wedding day. We had a choir made up of friends from across the years who sang during the service. For the reception, we booked The Supers. They're a seven piece funk and soul band who were also able to play as a jazz trio with piano and saxophone during our drinks reception. In the evening they absolutely brought the house down and the dancefloor was never empty. Their Spice Girls cover was a personal highlight!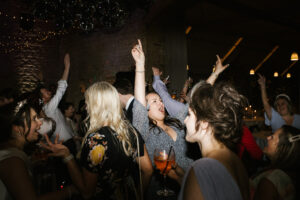 Photography
We've always loved relaxed journalistic style photography, with a little bit of edge and a big chunk of fun. I followed Through the Woods We Ran when they were based in Australia having spotted their work on an Australian wedding blog. One day they announced their big move to the UK, to Bristol of all places, and it felt meant to be. We booked them right away! We love our photos, and we have no idea how they made us look so cool. Glenn and Lauren are awesome humans – they hype you up when they need to, and blend into the background when they don't. Couldn't recommend them more.
 Videographer
We um-ed and ah-ed about having a videographer and then a friend recommended Jamie Rhodes. We met Jamie for a coffee and we were sold. Jamie did a five minute summary film and filmed the service and speeches in full. It's so special to have these memories caught on camera forever, and I'm so glad we did it.
Sean and I wanted everyone to let their hair down after so many years of lockdowns, loss and postponements. Our wedding felt like the biggest celebration of us, of our families and of good times to come. We couldn't have done that without the team at Lapstone Barn. They were efficient, professional and friendly and all of the thought that has gone into the space really played out on the day. We wouldn't change a thing.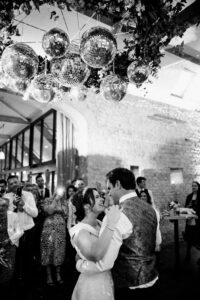 Credits:
Dress: Suzanne Neville from Carina Baverstock Couture
Accessories: Victoria Percival
Shoes: Loeffler Randall
Hair and makeup: Margot and Lace
Grooms suit: Marc Darcy from Country Master
Bridesmaids: Ted Baker
Florist: The Petal Emporium
Stylist: Styletopia
Photographer: Through the Woods We Ran
Videographer: Jamie Rhodes
Cake: Ahh Toots
Band: The Supers