Last week we showed a couple round Lapstone Barn for the first time and afterwards they sidled over and said "Sorry, we have a bit of an odd question – would we be able to bring our dog to our wedding?" The answer is a resounding YES! We are all mad about dogs and absolutely love have them here at weddings. We've come up with some top tips for you to make them part of your day, whilst taking the stress out of having another four legs to think about.
1. Bring your dog to the barn before your wedding day
We love having four legged visitors at the barn (they're often better behaved than some wedding guests!!) so don't forget to show the most important member of the family round your wedding venue, before your wedding day. If they're somewhere familiar, they won't get so over-excited on the big day, which will make it much more relaxed for everyone. Some couples bring their dog to their very first viewing of the barn, and they're always welcome from day one – they're guaranteed to have lots of fuss made of them and we'll be sure to bring out the jar of dog treats behind the bar!
2. Meet your wedding photographer
Imagine the wonderful family portraits of you with your best canine friend! Just don't forget to tell your wedding photographer that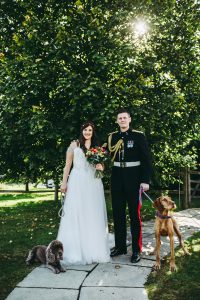 you want to include your dog in your wedding photos to avoid surprising them on the day. That way they can come prepared with a pocket full of treats to help get your dog to smile for the camera! If you're having an engagement shoot before your wedding day, include your dog too so they get to know your photographer and see their camera in action – we had one dog here who was so scared of the camera that she hid in a bush!! Dogs are so used to us taking photographs on our phones, but professional cameras look quite different!
3. Put someone in charge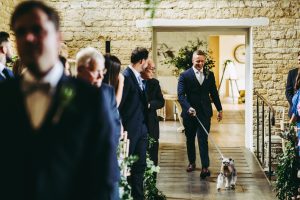 There's always time for a quick cuddle but you're going to be way too busy on your wedding day to look after the pooch too. Give one of your guests the honour of being in charge of your dog for the day! You may want them to be the ring bearer and stay at your wedding for the whole day, or you may just want them to make a quick appearance for photographs. Let someone else deal with the timings and get your dog in the right place at the right time. Make sure you've thought about where they'll spend the rest of the day when they're not inside the barn and never leave them in a hot car.
If you feel awkward asking a friend or relative to be in charge, think about using a wedding dog sitter – they do exist! We've met a couple of different people based here in the Cotswolds, who specialise in looking after dogs at weddings, so you have total peace of mind they won't be running off as you're partying!
4. Don't be disappointed

Everyone wants every detail of their wedding day to be perfect, but dogs don't understand what all the fuss is about! You might have seen photographs from other weddings of perfect portrait shots including the dogs, or them fast asleep while everyone parties around them. Your doggie ideas might not go exactly according to plan, and that's fine too! Don't set your heart on them behaving perfectly, and you won't be disappointed. Are there other ways you include them in the day if they can't be involved in the way you hoped? Cake toppers, photos of them or table names are just a few ideas for including them in case they're not there.
5. Be prepared!
Whilst you're packing everything you need for your wedding day, make sure you pack everything your dog will need too! From the dog bowl and food, to poo bags (!!) and dog toys – be prepared! And don't forget to bring their favourite dog bed in to the barn so they can retreat to the comfort of their own bed if they find all the people, noise and loud music a bit stressful. Most importantly, don't forget the dog lead! Like other wedding barns, we are surrounded by beautiful rolling Cotswold countryside with lots of exciting things for dogs to chase….and even if they don't like chasing things, at least the lead will stop any dirty paw prints on your wedding dress….hopefully!