What are the strongest wedding cake trends ahead for 2024?
Cake styles tend to fall into two categories – fondant or buttercream. I'm finding that fondant iced cakes are still the most popular style of wedding cake. They'll always be my preferred choice as they are stable on warm days and more often than not, they are dressed with beautiful hand crafted sugar flowers (which I love making!) Fondant iced cakes also give more scope for additional decoration, such as stencilling, monograms and texture, which can make your wedding cake really personal.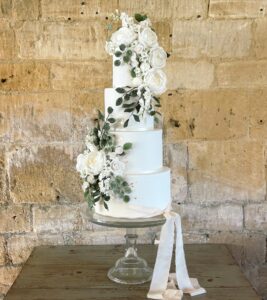 Buttercream cakes are perhaps moving towards a sleeker, smoother finish and then being dressed with fresh flowers. The downside is they are always challenging on warm days as the buttercream melts easily! One way to combat that, is to under-ice the cake with a layer of white chocolate ganache before applying the top buttercream layer. This secures the fillings and prevents any bulging if the cake gets too warm. I always chill the buttercream cakes overnight so that we are starting with a chilled cake on the morning of the wedding and it will be up to room temperature by the evening when you cut it. However, if you do choose a buttercream cake, you may have to accept that if the weather is exceptionally warm, you might have to cut the cake earlier than planned…
Two, three or four tiers – how do I decide?
The number of tiers, will be primarily dictated by your guest numbers. This will be your evening guest number, as this is typically when the cake is served. Two tiers work well for up to 50 guests, three tiers for up to 120 people, and four tiers will serve up to 160 guests.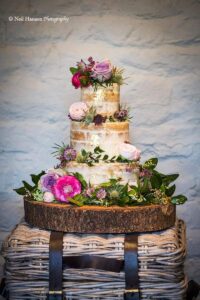 If you only have a small number of guests but prefer the look of a bigger cake, then there is the option to add a dummy tier. This tier will still need to be iced and decorated, so it won't reduce the cost tremendously, but it ensures that you wont be left with too much leftover cake.
We don't have a very big budget for our wedding cake, how can we keep the cost down?
Semi-naked cakes are still very popular, especially at country barn wedding venues. These cakes can be decorated simply with fresh flowers provided by your florist and is by far the cheapest option of having the most cake for your budget. For a small additional cost, you can have a sprinkling of edible gold leaf, which adds a touch of luxe.
We want our wedding cake to have the real WOW factor – what would you suggest?
For the wow factor, it has to be sugar flowers! The majority of my clients come to me because of my sugar flower skills, and it is something that I have spent 15 years perfecting. I liaise with your florist and get a flower list and then make sugar versions of your fresh flowers. The major benefits of having sugar flowers are that they are food contact safe, they won't wilt throughout the day and also you can keep them as a keepsake for years to come. Displayed on a tall, elegant cake stand, you can be guaranteed that this most definitely will have the wow factor, and will have your guests talking about how they can't believe that the flowers aren't real!
Is it traditional to have at least one layer of fruit cake?
It used to be… but not now. Although this used to be the tradition, it has fallen out of favour in recent years. I probably only make half a dozen fruitcakes a year and this number has fallen dramatically since I started doing this job 15 years ago. I think that this is due to the fact that there are so many other nice flavours now available.
Which flavour cake would you choose?
Nowadays there are so many different ideas for wedding cake flavours! My favourite is probably carrot cake – it's seen as a modern alternative to fruit cake, but is super moist, jam packed with lots of flavours and incredibly moreish!
However, lemon is always popular and refreshing, especially in summer. Chocolate is always a winner and as it has an affinity with so many other flavours, you can choose a less conventional filling such as salted caramel, chocolate orange or peppermint.
What cakey advice or tips would you give to couples getting married in 2024 and beyond?
As soon as you've booked your wedding venue, book your cake maker! I'm now taking lots of 2025 bookings and next year is really limited in busy months. Good wedding cake makers are starting to get booked even quicker than usual as sadly we have seen a huge number of makers cease trading since the pandemic and cost of living crisis.
Consider your venue style and make sure that the cake fits the venue. I have created so many different cake styles at Lapstone Barn as it is such a special wedding venue and suits almost any style – not every wedding venue is like that!
Be realistic with your budget and do share that with your cake maker… they will ensure that you get the best option for your budget.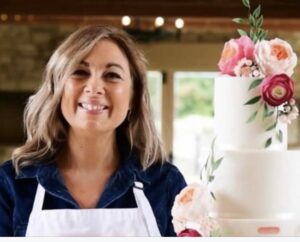 If you'd like to to chat to Samantha about your wedding cake ideas for 2024 and beyond, pop over to www.theprettycakecompany.com for contact details. Our complete list of recommended local wedding suppliers can be found here.