At Lapstone Barn we have created an elegant and beautiful Cotswold wedding venue that has all the essential ingredients for a truly wonderful wedding day. But, if your budget allows for you to bring some extra special touches, as a venue it is the perfect blank canvas for creating a wedding day that your guests will definitely never forget.

1. Turn up the lights – without doubt, lighting is one of the most important elements in creating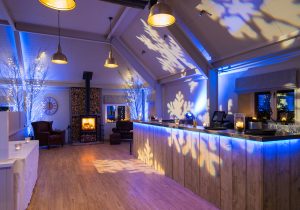 an atmosphere at any wedding or party. It can add mood, colour, depth and decoration to your wedding day. Make the most of blank wall and ceiling spaces to project colour and shapes. Skim soft lighting across walls and features to enhance their natural character. Hang festoon lights outside for a relaxed and informal look. Fill empty spaces and tables with candles for a flickering romantic light. The possibilities are endless, but we can recommend the right lighting company to create exactly the look you want.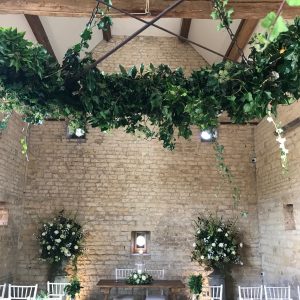 2. Make an impact – barn wedding venues are normally fairly big spaces, so decorating them with statement pieces will give the true 'wow' factor. Choosing your flowers and foliage carefully means you can create impact without it costing a fortune. Think milk churns filled with eucalyptus or pedestals brimming with myrtle, ivy ferns and masses of other green foliage. Put it at the entrance, hang it from the rafters of the barn, fill window ledges and decorate the bar. Spread the theme throughout the venue for fantastic continuity and impact.
3. Use a stylist – let the experts do the work. Wedding stylists have a huge amount of experience in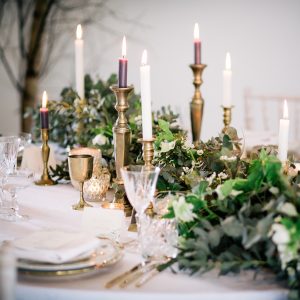 decorating barn wedding venues, and most importantly, they have imaginations that run wild! Use Pinterest as a tool for collating the looks and themes that you love, then let your stylist create a truly unique look for your wedding day. You might even start the next big trend! Stylists will coordinate with your florist to create a cohesive look that will really set your wedding day apart from the norm. They will concentrate on the all-important details including the colour of the table linen, charger plates, candle holders, as well as the big-ticket items such as fairy light canopies and flower chandeliers.

4. Cocktail o'clock – the trend for celebrating with flowing cocktails is stronger than ever……with the huge selection available and theatre in producing them, it's easy to see why! Trays of cocktails alone can look fantastic and add the wow factor, but if you want to go the extra mile, talk to your wedding venue about bringing in a mixologist to produce cocktails to order all night long. If that doesn't get the party started, who knows what will!

Henry specialises in producing bespoke weddings and parties at country houses in the Cotswolds, as well as venues and private homes in London. Take a look at his work as a party planner and prepare to be wowed!