While the idea of choosing your wedding music sounds fun, you would be surprised at how much time you need to put aside to work your way through the perfect playlist. After all, it's the soundtrack to your celebration and you want your song choice to be the perfect match for your special day. Your wedding day music will gently take your guests from the ceremony to the reception, right through to the dance floor.
We suggest putting aside an evening once a month to work on your playlist together. Use your time wisely and take the opportunity to listen to songs, reminisce about the memories they conjure up and discover some new favourites – all over a glass of wine or two, of course! You will probably find that there are hundreds of songs you'd love to use throughout your nuptials, especially if they are significant to your relationship. By starting your wedding day playlist fairly early, you can listen to it throughout the wedding planning process. This will allow you to make subtle tweaks here and there before you're happy with the final product.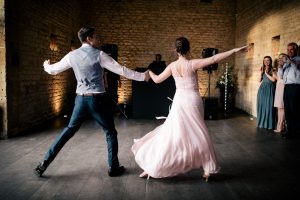 Add meaningful songs to your wedding playlist and make it completely and utterly personal to your love story. Is there a song that was playing the background of your fist date? Does a particular song remind you of your first kiss? Or perhaps there is a song that perfectly sums up your relationship? It might be time to get the tissues out, as there will probably be some tears!
Get your guests involved in your wedding day music and ask each guest to request a song when they RSVP. It'll be a fun ice-breaker as your guests can talk about their chosen songs throughout the reception and you'll have some guaranteed floor-fillers. With guests of all ages, you will have an incredible selection of songs.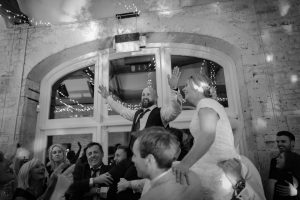 Let's get down to the serious stuff. You will need to break down your wedding day songs into different parts of the day, from the ceremony entrance music right through until the very last dance. That's a huge amount to cover and breaking it down into manageable chunks will make it less overwhelming for you.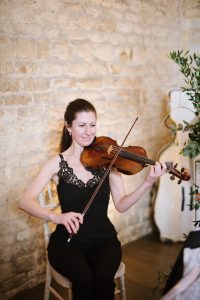 Consider the atmosphere you want to create for each section of the day. For instance, for your pre-ceremony playlist, we recommend having music that is fairly relaxed yet upbeat while your guests filter in and find their seats. Your entrance music needs to be emotive, setting the tone for you to tie the knot. Are you having post-ceremony drinks in the glorious summer sunshine? A live musician is a wonderful choice to accompany your guests while they mingle and enjoy fizz. Make sure you have plenty of fun, well-known tunes to get your guests up on the dancefloor. From classic 70s, 80s and 90s tunes right through to modern-day music, you will be guaranteed to get guests of all ages up on their feet.
The first dance – it needs to be absolutely perfect! Like many couples, you may well have known the song choice for years. If you haven't already got one up your sleeve, listen carefully through a collection of meaningful and romantic songs together. Listen to the words, do they reflect you both? Consider the beat too, it needs to be slow enough to sway to. Ultimately, you need to think about whether or not you can imagine enjoying your first dance to this song.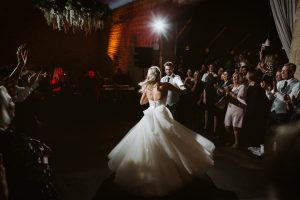 As you can see, choosing the soundtrack to your celebration is a huge task but it's one that is super enjoyable and will really help you to start picturing your perfect wedding day.