Being the general manager of a new Cotswold wedding venue and having recently got married myself means that 2018 has been a pretty busy year!  But it does mean I can empathise with our lovely Lapstone Barn brides and understand the strains and stresses of organising your own wedding. Here is a little insight into my own Cotswold wedding and the suppliers I used.
Venue
I often get asked if I got married at Lapstone Barn – although it is a dreamy wedding barn, and thank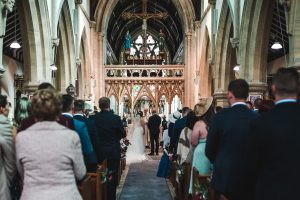 my lucky stars every morning that I get to work in such a beautiful place, I had always dreamt of getting married in my local church in the Cotswolds. I was Baptised there and my Grandmother is buried there so it holds a special significance for me – Matt, my husband (it is taking me a while to get used to that word!) isn't religious but the church is stunning and very close to where I grew up so worked for both of us. We were keen to make the ceremony as personal as we could and were lucky our Priest, Father Rainbow, was relaxed about adding some personal touches. We ended our ceremony with Crazy in Love, with everyone singing along – so not your typical Catholic ceremony!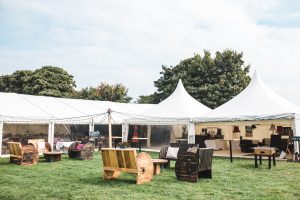 Our reception was held at the house where I grew up – we are lucky enough to have a paddock with room enough for a marquee. Matt is incredibly creative and was desperate to make things for the wedding so he created garden furniture, a rustic bar and lots of other wedding props around the marquee. We even had some huge wooden doors we drove through when we arrived at the marquee.
Flowers
As with all weddings we were keen to save money where we could and lucky to have a family friend with a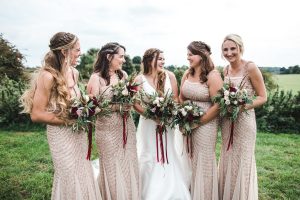 cutting flower garden. She very kindly provided flowers for the vases on our tables and around the marquee. For the bouquets we used a local florist called Jaquranda – I had done a bouquet making workshop at Lapstone Barn earlier in the year but decided, in the end, I didn't want the stress of making our bouquets. The excitement of getting them delivered in the morning was worth it!
Hair and Makeup
I had a few horrendous hair and makeup trials including a last-minute change of plan but in the end, my hair was done by Kate from Martin Crean at Mode (next door to Lapstone Barn) and make-up by Rosa from Natasha Louise MUA. Both made me feel at ease and it was definitely worth persevering through the other trials until I found someone who gave me the confidence to go for the look I wanted.
Décor
I see so many weddings through my job and whilst they are all beautiful I was keen that my wedding was different from the barn weddings I see each week. We used rustic tables and chairs and hung copper hoops from the roof of the marquee to break up the white roof – not something you need to worry about in a wedding venue like Lapstone Barn. We also invited our guests to arrive in classic cars if they had them and had a bit of a car and bike show at the front of the marquee. Our tables were named after horses and bikes we had both owned over the years.
Food
We opted for a sharing main course of BBQ pulled pork, beef brisket, mac and cheese and salads. The food was delicious, and we joked after the food tasting that we might need to schedule in a power nap after dinner! Pudding is the most important course in our house and we had strawberries and cream, and banoffee pie with chocolate sauce to ensure we all got a chocolate hit.  In the evening we had freshly cooked Paella but I forgot to leave the dancefloor to get any!
Music
I left the choice of band to Matt and worried from the moment I gave him this responsibility! After hours and hours of internet research, he booked Dr Bluegrass and the Hillbilly 8… a band name that did nothing to quell my fears! However, from the first number the dancefloor was packed – a folk/bluegrass band might not be for everyone but there wasn't one person who didn't jig along to the music – it was impossible not too!
We also had a DJ – Lukas from Sugarbumps – who I've known for a long time through events and I knew he would play the right tracks for the right people on the dancefloor!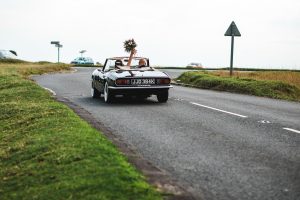 Photography
I was petrified of having my photo taken throughout the day – I am notoriously un-photogenic, however, Eve Dunlop was super chilled throughout the day, took photos without me realising and captured moments we didn't notice – like my 6-year-old nephew pretending to snore through the ceremony!
The Dress
Buying a white dress is hard! I visited 6 or 7 shops and the first few were just about getting used to seeing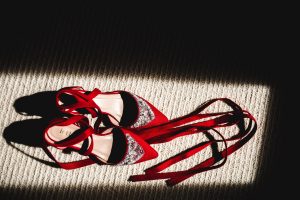 myself in a white dress and learning about my body shape… I ended up with a totally different dress to what I expected.  In the end, I was lucky enough to find the exact dress I wanted in my size on www.stillwhite.co.uk. It was a third of the price I would have had to pay brand new and in perfect condition. I am lucky enough to have an incredibly talented mother who did all the alterations for me, including creating some incredible bespoke shoes which I bought from ASOS for less than £20.
The Cake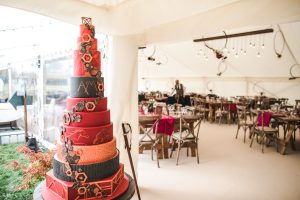 Talking of my talented mother, she also created the biggest wedding cake in the world – she runs the Cut Above Cake Company and it was a bit of a running joke that we would have an enormous cake and she didn't disappoint!  It was a surprise on the day and was absolutely stunning!