When it comes to choosing how to decorate a barn wedding venue, the first thing to agree on is your budget. Everyone has a different view with regard to how much they want to spend on décor and styling, so agreeing this from the beginning will help with the decision making further down the line.
The second thing to consider when choosing décor is which overall style and theme you want to go for. Are you looking for a rustic, classic, modern, floral or colourful aesthetic? This will dictate every element of your wedding design, from hanging installations down to the stationery on the table.
Deciding on the larger elements first is a great place to start. Even if you just choose a couple of large, high impact items and keep things simple elsewhere, you will create the 'wow' factor. Here are our top tips to achieve that….
1. Draping
Drapes are right on trend for 2020 and are one of our favourite styling options. Using panels of flowing, soft fabric running across the beams and down the walls, either with or without lights, creates a romantic and soft feel to the barn as well as creating a stunning backdrop for that special 'I do' moment.
2. Hanging Florals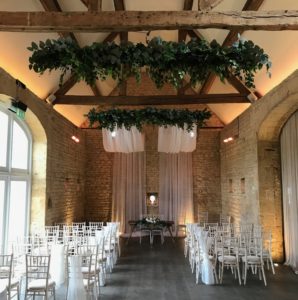 As specialists in hanging faux floral arrangements, Styletopia really know to use these to create maximum impact. They are incredibly versatile, so you can have any shape, style or colour, which allows you to introduce your theme perfectly to almost any space – no matter what size or shape you need to fill!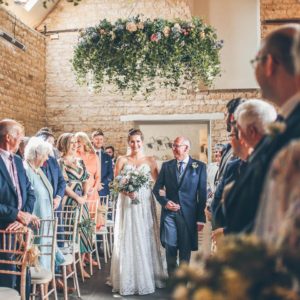 Whether you're opting for a classic and elegant look, bright and colourful, or loose and wild, by using hanging floral chandeliers, floral bars or hanging garlands, you can help create a breathtaking space that will keep guests talking about your wedding for years.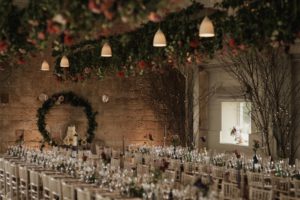 3. Lighting
Lighting is a great way to help transform the barn throughout the whole day. Using beautiful, twinkling fairy lights as a canopy for your wedding ceremony makes for a magical setting to be married under, and come the evening reception, you can dance the night away under a starry night sky. Even in the summer months, this can still be very effective, and creates atmosphere as the night draws in. Adding coloured room lighting is also another way to watch the barn transform from a daytime reception venue in to party mode!
4. Hanging lanterns
Hanging lanterns are ideal for those looking for a more cost effective way of decorating the ceiling spaces whilst adding colour to match your scheme. Tailor the quantity to suit the size of the space, creating as much impact as you want to. They are the perfect solution for those wanting something bright and colourful, and can look equally incredible in neutral colours!
5. Tall table decorations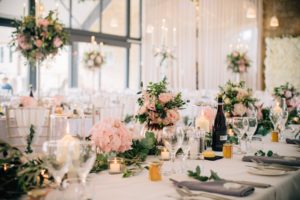 One of the things we all love about barn wedding venues is the sense of space they give, and Lapstone Barn is no exception to this. But if you want to create some drama and help bring the ceiling space 'down', tall arrangements on the tables will help to create the visual effect of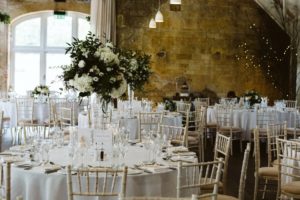 closing in the space.
Consider using a combination of high and low arrangements so that you're providing colour and interest at different levels throughout the room. Don't forget candles too! Using candles at different heights on the tables will also add those different levels of colour throughout the space.
We were thrilled to hear that Styletopia have just won Best Venue Stylist at The Wedding Industry Awards 2020 and we know why! Ruth and Kim have masses of experience combined with a creative flair, that makes their styling really stand out. They are realistic about what can and can't be achieved within the scope of the venue, and work with you to bring your vision to life.
If you are wondering on how to create your perfect look and feel for your wedding, then do get in touch with them – find their contact details at www.styletopia.co.uk