We're chatting to the lovely Lynne of Rustic Rentals for her expert tips on how to achieve her beautiful rustic style, which is just perfect for your wedding in the Cotswolds. So, if you want a barn celebration that gets your guests talking for years to come, we suggest you keep reading…
When it comes to choosing the theme for your day, consider the style of wedding you want. Do you want it to be minimalist or elaborate? Do you prefer an elegant feel or bohemian vibe? The choice is yours! For couples who want a rustic theme, the styling options really are endless. Visualise the day as it unfolds and consider each element of your wedding day.
The Entrance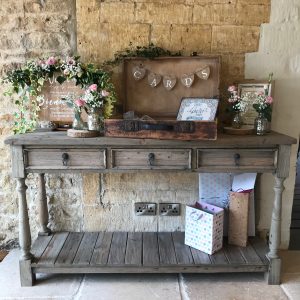 We recommend decorating the entrance of your venue to instantly set the scene for your guests. You can do this using floral design or signage – welcome signs and directions are always a lovely idea for your guests. Love the thought of creating a welcome area? This will normally have a welcome sign which can be personalised to your taste – options include calligraphy hand written signs on wood, Perspex, hand written crates, chalkboards, hanging hoops & shutters. You can include your card box here, there are many options that can be used, which include vintage cases, hat boxes, wooden crates, galvanised tubs. Wicker baskets, tool boxes & vintage trugs decorated with flowers in jars, on log slices and with tea lights and candlesticks. Take your pick!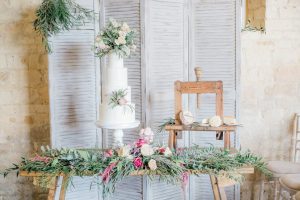 Ceremony Décor
When it comes to decorating your ceremony space, there really are oodles of options. We love to use tall pillar candlesticks for the ceremony table along with wooden hoops in stands with a beautiful floral display in an urn. Foliage and floral runners with pillar candlesticks, taper candlesticks with pretty coloured candles or ivory or a floral or foliage swag look amazing as well.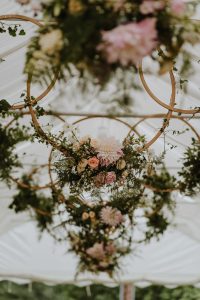 If you're having an outdoor ceremony you can decorate the aisle with shepherd's crooks with pretty floral jars and candles in jars. Lapstone Barn offers fantastic opportunities for hanging installations – these can be hoops, canopy lights, bunting, and festoon lighting.
Confetti Trugs
Here at Rustic Rentals, I love to collect and dry out flower petals and then put them in a vintage French trugs. This is a lovely way to introduce some of your home into your day and also friends and relatives can collect them for you making it a lovely way to involve your loved ones. Plus, it won't break the bank!
Table Décor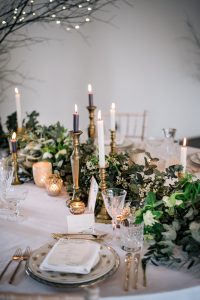 When it comes to styling your reception, you will need to think about whether you are having trestle tables or round tables. Banquet tables are the perfect fit for an elegant yet rustic wedding, and you can adorn them with foliage garlands, pretty florals and hessian runners.  Work in small log slices or vintage brass taper candlesticks of different heights with tea lights and floral jars.
If you're having round tables, there are plenty of other gorgeous options. Vintage milk churns and jugs, metallic lanterns, geometric shape terrariums, wooden candlesticks and tea lights all make for wonderful centrepieces – to name just a few!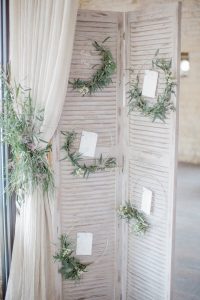 Table Plan
Show your guest to their seats in style with an envy-inducing table plan. They can be displayed in vintage frames, on mini easels, written onto log slices, chalkboards or Perspex.
Name places can be written on mini blackboards, slate, marble, agate, card or vintage handmade paper with silk ribbons that match your invites.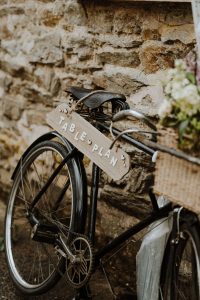 Vintage bikes with floral baskets look so pretty for your table plan, as do pallets with hanging pots of flowers, wheelbarrows full of flowers, crates or ladders with photo frame table names. Decorate them with flowers, greenery, glass jars of flowers, candlesticks and tea lights. We could go on forever…
Hanging Décor
Hanging installations are one of the hottest trends for 2019 weddings. Beautiful blooms hanging from lanterns, greenery garlands, festoon lights, floral hoops and even origami will all add a special touch to your barn wedding venue.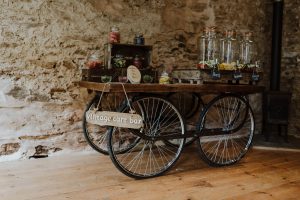 Bar, Cake Table or Dessert tables
Make the most of your wedding venue and create a sweet treat or wedding dessert table. You can offer your guests an array of crowd-pleasing creations, including macaroons, cake pops, donuts and more. If you haven't got a sweet tooth, perhaps an olive or tapas bar may take your fancy? For couples who are planning a sizzling summer soirée, a cocktail or 'Pimp your Prosecco' station is the perfect addition to your barn wedding. Fill wooden crates with jam jars and colourful straws, while serving an assortment of fruity cocktails from glass dispensers.
Rustic Rentals are one of our recommended local suppliers, so get in touch with Lynne and be inspired for your barn wedding!