Let's start with 2021 – have you noticed any strong trends, influenced by the pandemic?
I think with everything going on couples wanted to keep things simple and natural so whites and greens has to be the strongest trend we've seen this year so far, packed with plenty of foliage.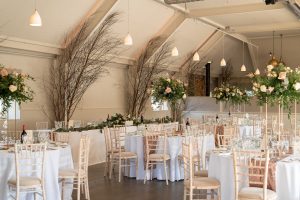 What have been the most popular three wedding flowers in 2021?
Anything white and blush! So, garden Roses such as Quicksand Rose, blush Astilbe and then Eucalyptus foliage.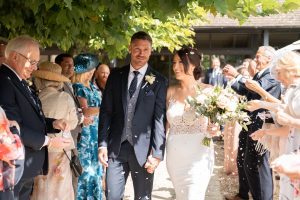 Do you think you'll be giving a different answer to the above, this time next year?!
Only if the current problem with the supply and demand of cut flowers around the world continues – we may find we have to look more towards dried flowers and a lot more foraging!
What floral trends have you noticed so far for when talking to couples about 2022 weddings?
I'm still seeing natural whites and greens, but with earthy neutral tones coming though in dried flowers alongside real flowers. Foliage will become more varied and, dare I say it, a step away from Eucalyptus towards more seasonal foliage and grasses.
Dusky pinks will still be used as pops of colour but I'm seeing more cappuccino and toffee highlights in pretty Roses with Dried Bunny Tails and Pampas Grasses for texture.
On the flip side, I think we'll also see lots of mixed brights to lift our spirits after the last two years. Think colourful meadows and dancing Cosmos, with fluid foliage and no specific colour palette, just seasonal flowers at their best.
Bouquets and arrangements will be relaxed still, with a boho vibe and hand dyed flowing ribbons.
What are your trend predictions for flowering barn weddings in 2022?
'Wow' installation pieces such as hanging hoops or flower clouds, with lush foliage and big pops of flowers to fill the space and create impact. I'm seeing more natural growing arches as backdrops for the wedding ceremony.
For the reception, long wooden tables with foliage and pretty glass bud vases of flowers down the middle. For earthy palettes, terracotta pots can be given to your guests as wedding favours.
Flower crowns – in or out? – Out! Pretty bud Roses pinned through hair are so much more relaxed.
Bridal bouquets – tight and structured, or loose and natural? Definitely loose and natural.
Groomsmen's buttonholes – single flower, or mini arrangement?  A mini mix to complement the more relaxed vibe.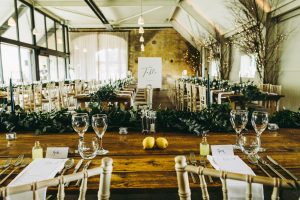 If you had an unlimited budget, how would you flower our beautiful stone barn for a wedding ceremony?
Definitely hanging installations in the stone barn to create a huge impact as your guests arrive for your ceremony, and meadow runners to frame your aisle. A growing arch (not full arch) at the end of the aisle creates a backdrop to say your vows in front of.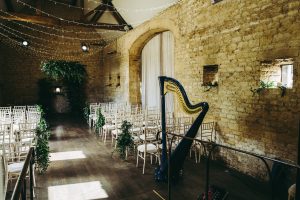 For those on a tight wedding budget, what would your top tips be?
The key is to re-use your flowers in other parts of your day, for example, meadow runners can be moved to the reception space in front of your top table, and the growing arch can be used to frame your cake or as a backdrop for selfies!
If you were designing wedding flowers for yourself, what three flowers would you choose, and why?
That is a tough one as with every delivery and every flower I say 'oh this is my favourite flower'! I think a beautiful garden rose such asGarden O'Hara Rose, as it actually smells of an English Rose – the kind my grandmother used to grow in her garden when I was a child. Also a Pompom Dahlia just fascinates me as they are just so perfectly formed. Stocks have to be up there too as one of my favourites, as they smell so amazing.
Huge thanks to Jo for taking time out between weddings to contribute to this brilliant guide – we hope it's been useful and inspiring for you 2022 wedding planning! You can find all the contact details for Aquaflorist over on our Local Recommended Supplier's page.