You have a huge number of decisions to make planning your perfect wedding day, and a lot of them hinge around the overall look and style you're going for. The layout of the tables for your wedding breakfast is a good decision to make at the start, as you'll want to choose different styling and floral options depending on this layout.
Northwick Barn is our main dining space on your wedding day, and both formats work beautifully in the barn. Hopefully this guide will help make your decision a bit easier!
Round Tables
The PROS
They will give a beautifully traditional look to your wedding day
It's easy for you and your guests to circulate through the tables
We can use different size tables to make your seating plan work – from 6-12 guests per table
Choose from a huge range of table linen colours (additional charges may apply) to style up the day
Some of our starters can be served on circular sharing boards, which is a great ice breaker if your guests don't know everyone at their table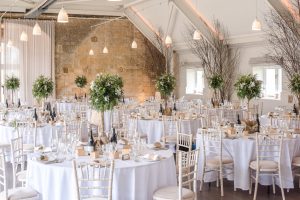 The CONS
On large round tables it can be tricky to chat to everyone round the table
You need to use tablecloths, which creates a more formal look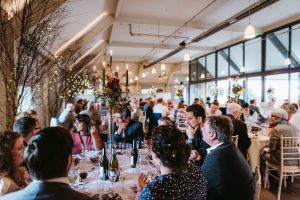 Long Tables
The PROS
The banqueting style is a more contemporary look and a popular choice
Rows and rows of tables make a big impact for your wedding breakfast
The wooden table tops add a warm and rustic feel to the styling
Table runners and foliage garlands look fabulous along the full length of the tables
It's easier to chat to people on the other side of the table as they are narrower – keep your floral arrangements low or choose tall vases so you can see people across the table!
The tables can be arranged in different formats, across the barn or horseshoe shaped for example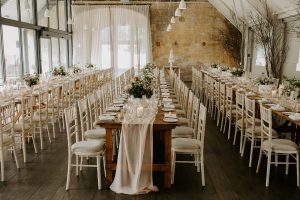 The CONS
Tablecloths don't work on our rustic trestle tables – Granny might not approve!
It's slightly more difficult to work your way round the room as you have to walk along the length of the tables
Banqueting style works better for more than 60 guests, so that the room feels full enough
So, which will you choose? As always, we are here to chat through all the options about every aspect of your wedding day. Please just drop us a line when you need some help or advice!